5 Reasons You Might Want to Build Rather Than Buy
Posted by JoAnn Dickinson on Monday, September 20, 2021 at 2:37 PM
By JoAnn Dickinson / September 20, 2021
Comment
When you think of building a home rather than buying a home, most would shy away from thinking that it would be much more expensive than buying a home. It can be more expensive depending on how you design and customize it. There are definitely some advantages to building the home you want and exactly how you want it to for functionality within your family. There are 5 main reasons we want to look at that may persuade you to want to build rather than buy.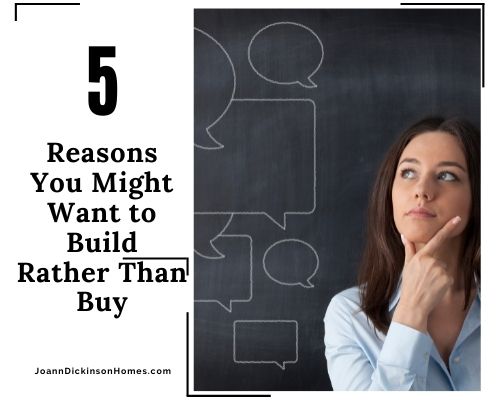 Any new home you build will be up to date and current with new codes and or laws that are put in place for building. This means that you should have less issues with your home as problems can arise and things break. The house will be more energy efficient because we have more efficient ways of building and use of appliances now than that of an older home.
A new build is often in a new neighborhood or subdivision. It is especially enticing for families to be a part of a new neighborhood. Many people enjoy the look of unity that these types of neighborhoods produce. Oftentimes there are amenities within the neighborhoods and it creates a very family friendly atmosphere.
A new build is super helpful for planning purposes. You are constantly kept up to date with the progress and every part of your home. This is not always the case when searching for an already existing home and can create a lot of stress if you are currently renting or in the process of selling your home.
Saving costs! This is a tough one. So many think a new build is automatically more expensive. Having a new home means that everything is BRAND NEW and should be in perfect working order. It should be quite some time before anything breaks down and everything should be under some kind of warranty. There is no worry about anything the previous owners may have not known about.
Last but not least, you can build it the way you want it! This gives you so much freedom to design your dream home or townhouse. Purchasing a home is the largest investment you will have in your life and you should have it the way you want it when you are putting so much of your income into it. You do not want to constantly have things you want to change or fix that make your "home" uncomfortable. You want to enjoy it and have your home be a place of solace.
For more information to make an informed decision on buying vs. building, contact me below and we can run over the numbers. I specialize in Huntington Beach homes and Lake Arrowhead real estate.